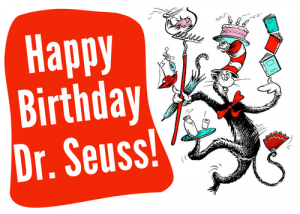 Happy Birthday Dr. Seuss!  Theodor Seuss Geisel was born on March 2, 1904  and passed away on September 24, 1991 . He published 46 children's books! The reason why Dr.Seuss wrote his books in a "poetic meter" is because he knew that the more interesting the more children would want to read! You can support literacy in your community! Make sure you read a special book to your children today and let them know how important reading is!
You can make a Dr.Seuss craft in honor of his Birthday!
Take some blue paint and make two handprints (as pictured)
Cover your palm in orange paint and push down to make a face!
Draw in the clothing and face (once the paint dries)
Make some green eggs for lunch!
Peel hardboiled eggs and cut them in half
Take out yokes
Use green food dye and mix together mayo and yokes
Fill eggs with green yoke
Thanks for the pictures and craft ideas Jen!